Artist: David Cobb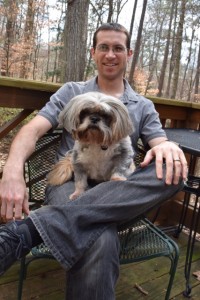 I began painting pet portraits in 2005. The first portrait was a thank you gift given to a neighbor who was allowing me to use her wood shop. Her wonderful dog Chewie had a serious liking for saw dust, so Chewie was often there to help "clean up". From there it has simply been word of mouth that has provided me the opportunity to create paintings that are truly loved and cherished.
​Petmugz Pet Portraits is located in my painting studio in Durham, NC. I studied illustration at the Rocky Mountain College of Art and Design and graduated with a Fine Arts degree from the University of Houston in 2005. You can see some of my non-pet related work at www.dscobb.com or at my mural website www.davidcobbmurals.com.
Petmugz Pet Portraits has been and continues to be one of the most rewarding types of painting I do. From the challenges every painting presents in composition, color, and likeness, to the occasional meetup to try for that perfect shot to capture a pets unique personality. What makes it the most enjoyable though are the wonderful compliments and enthusiasm for the finished works.
-David